Business
VyStar by the Numbers: A Look at the Credit Union's Accomplishments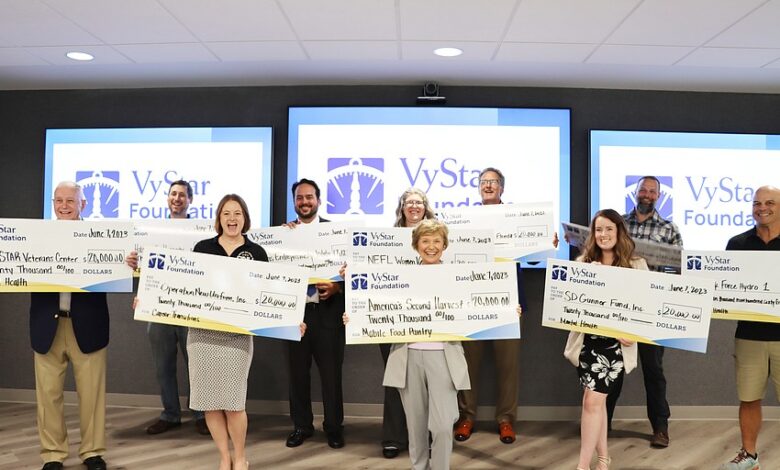 For those needing clarification about how credit unions differ from banks, it's essential to understand that credit unions like VyStar are not-for-profit financial cooperatives. That means that any earnings are paid back to the members through higher interest rates on savings accounts and lower interest rates on loans. Banks, however, are for-profit entities and only pay the bank's stockholders.
VyStar has been serving the needs of its members since its inception in 1952. One of the credit union's core values is to lead by example, and it seems clear that these ideals guide the credit union every step of the way. Its members' needs are at the heart of everything the Jacksonville, Florida-based financial institution does. Its innovative approach to community involvement recognizes that members have an impact on improving the community around them.
It strives to offer members the tools they need to achieve their financial and life goals. And that starts with financial wellness for all ages. VyStar CEO Brian Wolfburg said it's "a tremendous honor and privilege" to guide the credit union as it implements meaningful changes to better the banking experience for its members.
He's also focused on ensuring the credit union's staffers are happy. "Our employees help our members get their banking done," stated Wolfburg. "They support our efforts to be a community leader and impact the world. And they challenge us to grow, innovate, and evolve. They are what separates the credit union from other financial institutions and are the reason why we continue to grow and improve as an organization."
The financial institution's members can access great rates, low fees, and excellent service. Being a member of VyStar also comes with perks such as rewards and special discounts. The credit union makes ensuring all members have access to the tools they need to accomplish whatever financial and life goals they set for themselves a priority.
The military is part of the heart and soul of the financial institution. It's honored to support past and present military members and their families through internal programs for employees and external programs for credit union members and community partners.
One way it accomplishes that is through its military-focused employee resource group, VyStar Employees That Served, to help with professional development and networking. The financial institution also offers a variety of perks and benefits for the military, including the Military Heroes Mortgage Program and unique military-themed debit cards.
Not only does it employ a diverse group of employees, but it also supports a wide range of initiatives. Take a look at the numbers to better understand the credit union's beneficial impact on the financial services industry.
A Breakdown by the Numbers
$10 million-plus: The amount of money it donated to hundreds of nonprofit organizations in 2021 and 2022.
900,000: Members nationwide.
$197,092: The amount of money the VyStar Foundation will distribute among 10 recipients in its first grant cycle.
54,000: How many new members joined VyStar from 2021 to 2022.
20,000-plus: The tally of surcharge-free ATMs nationwide.
8,000: Volunteer hours completed by employees in 2022.
1,800: Paid student internships the credit union hosted through its Corporate College Internship Program.
300: Nonprofit organizations it works with.
134: Nonprofit boards employees served on in 2022.
78: The counties in Florida and Georgia in its field of membership.
71: The number of years the credit union has been in business.
70: That's how many branches of the credit union are operational in Florida and Georgia.
$60: How much the founders used to charter the credit union.
30: The counties with VyStar branches.
18: The locations that run the High School Branch Program.
14: The college-level internships available in VyStar's Corporate College Internship Program.
13: It's the 13th-largest credit union in the United States.
12: How many founding members started the Jax Navy Federal Credit Union in 1952.
1: Its rank among mortgage lenders in northeast Florida.
How the VyStar Foundation Elevates the Credit Union
Financial wellness is the bedrock of VyStar's goals. In 2023 it established the VyStar Foundation to serve as its philanthropic branch because the financial institution is motivated to give millions of dollars annually to hundreds of nonprofit organizations that mirror its commitment to improving communities. The credit union bestows money on charitable organizations that share its dedication to bettering the world around the reach of its outposts in Florida and Georgia.
Wolfburg explained that the VyStar Foundation will take the credit union's philanthropic efforts to new heights. He said, "As we continue to grow across Florida and Georgia, the foundation will serve our new and existing communities, help us build important relationships with community leaders, and support organizations that make a difference each and every day."
It aims to ensure that military members, including veterans and their families, secure the attention and social services they need. Also, the foundation will empower youth by arranging equitable access to creative learning opportunities and plans to cultivate financially strong, culturally vibrant, interconnected communities.
The heart of the foundation is doing good and leading by example through harmonious partnerships that assist military members and veterans, youth, and the community in the neighborhoods within the credit union's presence. It's also committed to empowering others through collaborative associations and strategic grant-making.
Patricia McElroy is the president of the VyStar Foundation. She explained that its purpose is to do good. "That simple phrase describes the spirit of philanthropy that is deeply embedded in our organization," stated McElroy. "It inspired our teams in all that we do, whether we're serving our members, volunteering with nonprofit organizations, or donating to community partners who share in our commitment to improving the places we call home."
The foundation makes grants available to tax-exempt, public charity organizations that share the same purpose and mission with its three strategic pillars: military, youth, and community building.