Fashion
Kevin Durant's Nike KD Sneakers Revealed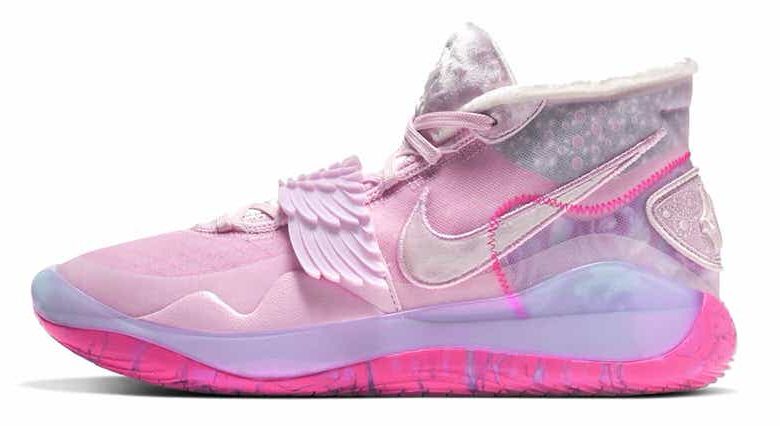 The Nike KD sneakers are signature pieces of basketball footwear from Kevin Durant. These shoes feature the player's signature style and performance on both the indoor and outdoor court. In this piece, we'll take a closer look at their design and style. We'll also explore how the player wears them, including what colorway best suits his playstyle.
Kevin Durant's signature Nike KD sneakers
The Nike KD 15 is the latest iteration of Kevin Durant's signature sneakers. The shoe features a low-cut design and a mesh-based upper with supportive panels in the midfoot and heel. It also has a full-length Zoom Strobel cushioning system for comfort and support.
The signature Nike KD sneakers are among the cheapest options in the Nike signature basketball lineup. They started out under $100 a pair and later increased to $115 with the Nike KD V and KD VI. They were raised to $130 with the KD7, but they remain much more affordable than some other top-tier basketball sneakers, which can easily cost $200 or more.
Kevin Durant's signature sneakers were designed to support his explosive style of play and offer a streamlined look. These men's sneakers are available on Eastbay in a variety of colors and graphic treatments. The lightweight Kevin Durant 13 model has full-length Zoom Air cushioning in the midsole. In addition, it features a see-through midsole window that provides a glimpse of the cushioning.
Nike has been partnering with elite athletes for decades. Kevin Durant is no exception, and the brand has been partnering with him since his second NBA season. As a result, his signature Nike KD sneakers have remained popular among sneakerheads and casual basketball fans.
The KD 15's release is expected to be announced later this summer. The new colorway will be inspired by Durant's love of music and art. They are expected to hit retail on July 3. There is no official release date for the KD 15. If it ever makes it to retail stores, they'll cost $160.
Their performance on indoor and outdoor courts
A comparison of KD shoes' performance on indoor and outdoor courts reveals that the KD 14 isn't better suited for outdoor courts. Its firm forefoot and slim heel shape make the shoe lightweight, but it doesn't hug the foot very well. As such, it won't support jumps and long runs as well. For those of us with wide feet, a full size larger pair would be best.
For players who play on a hard court, the KD 14 is a solid and responsive shoe. The Zoom Strobel in the midsole helps absorb impact and offers responsiveness, allowing the player to shift his or her foot in a snap. It also works with the player, which makes it great for quick cuts and shifty moves.
The KD 14 doesn't wow with its cushioning, but it's still an acceptable option. The heel Max Air unit feels firmer than its predecessors, while the forefoot Zoom Air unit is more flexible and lightweight. This unit offers sufficient court feel, but it does take a little time to break in.
Outdoor shoes require a different build than their indoor counterparts. They must be more durable, as they're exposed to harsh UV rays and the heat of outdoor environments. An inexpensive pair won't hold up to these elements, so it's better to purchase a good pair of shoes that will last you a long time.
The performance of a basketball shoe on an outdoor court depends on its traction pattern and rubber compound. The traction pattern is the key to its traction, and the quality of the rubber compound will determine its grip. Soft rubber is better for indoors, but it doesn't provide the same grip on hardwood courts. On outdoor courts, a solid rubber outsole is better.
The Nike Zoom HyperAdapt III basketball shoe has a multilayer mesh upper that actively wicks moisture. While the shoe takes a little time to break in, once game time begins, it's comfortable and supportive.
Their design
Kevin Durant's shoes are based on classic basketball sneakers from the 1990s and early 2000s. The Jet Flight model was released during Kevin's middle school years, and it features a clean, mesh toe design and a rubberized midfoot containment system that helps to lock down players. It was a popular shoe with Nash and was used for nearly three seasons in Dallas.
Durant's signature shoes typically have personal details. The shoe is a tribute to someone, place, or thing that was important to him. In the case of the KD15, that story is told through the shoe's colorways and traction patterns. In recent years, however, the player has chosen to use a more minimal approach to sneakers.
One of the main reasons why the KD 10 is so popular is because it represents Durant's history with haters. While there are some critics of Durant's lack of play, he is one of the best players in the world and his shoes are meant to send a message to the haters.
Kevin Durant's signature shoes are built for dominance on the court and off. They combine comfort, stability, mobility, and natural flow. The team behind the KD V has worked hard to create a signature shoe line for the NBA star. These shoes are available in bold and neutral colorways and tell the story of Durant's heritage and culture.
Their style
The KD shoes style draws inspiration from classic basketball shoes from the 1990s and early 2000s. One such model was the Jet Flight, which was introduced during Kevin Durant's middle school years. It was a minimalist style with a mesh toe and a rubberized midfoot containment system to keep the player locked down. Nash wore this shoe for almost three seasons with the Dallas Mavericks.
The Nike KD VII features the player's jersey number in recessed rubber on the outsole. The number is meant to evoke the elevated storytelling of the NBA superstar and also represent the daily inspirations that fuel his career. This sneaker is a perfect fit for an all-purpose player. In addition to its stylish design, it is comfortable and made of premium materials.