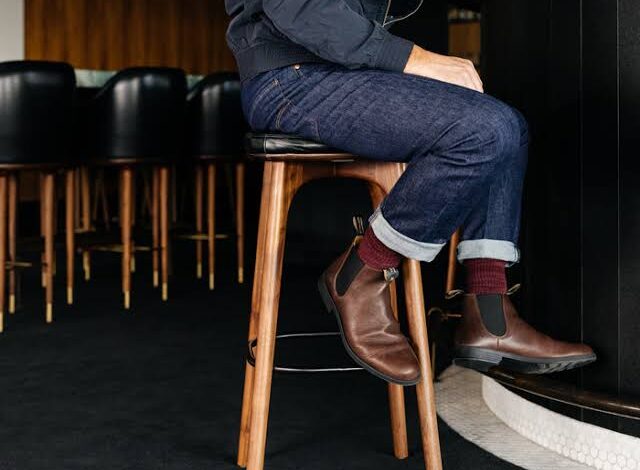 Blundstone Footwear is an Australian company that manufactures ankle boots. The company's most popular products include its laceless ankle boots. The company also sells a wide variety of lace-up boots. Since 2007, most of its manufacturing has been outsourced. These boots are a classic choice for everyday wear. You'll find them in a variety of colors and materials. They are comfortable and durable. And since they are made of leather, they'll last for years.
Classic blundstone boot
The iconic Classic Blundstone boot was first introduced in the 1960s, drawing inspiration from Chelsea boots from London. This type of boot has two pull tabs to ensure a secure fit. Over the years, the sole has evolved to incorporate new technology, but the basic design remains unchanged. The Classic Blundstone boot is still made to serve as a workhorse, and is appreciated by a wide range of people.
The leather lining of the Classic Blundstone boot offers additional cushioning and depth in the sole. The boots are available in unisex sizes and come with an extra pair of thin insoles for added comfort. These boots are also available in half sizes, for people who are not sure of their size. You can use this chart to find the right size, or consult the Blundstone website. While determining the right size is important, you should keep in mind that this style is not for everyone.
The Classic Blundstone boot is one of the most popular in the Blundstone collection. It has the classic look of the original 500 boot, but is incredibly comfortable. The boots are made of leather, and the Blundstone website does not specify what grade the leather is. In addition, the Blundstone website doesn't specify whether the boot is waterproof or not, so be sure to check out the manufacturer's warranty to see if the Classic Blundstone boot is right for you.
The Blundstone Classic 550 Chelsea Boot is made of premium pre-distressed leather. It has a steel shank for optimum stability and is lined with smooth leather for extra comfort. Its removable footbed has PORON(r) XRD technology in the heel strike zone to reduce shock and provide superior shock absorption. The boot also features a durable TU outsole with a PU midsole.
The Blundstone story starts in Tasmania, Australia. The company started making boots in the late 1800s and was the primary supplier for the Australian army during World Wars I and II. It was in 1969 that Blundstone introduced the 500 series Chelsea boot. The Classic model is sleek and stylish and combines workboot with casual style. The classic model is lace-free and easy to wear. The Classic Blundstone has become a classic that never goes out of style.
Comfortable blundstone boot
The Blundstone boots are the ultimate in comfort, support, and durability. These iconic boots can be worn anywhere – from a formal occasion to a casual outing – and are great for daily use. Plus, they have some funky experimental looks and vegan leather options for a more eco-friendly option. You can even find a pair of rugged work boots for men and women. If you're in the market for a new pair of boots, you won't find a better pair than a Blundstone.
The 510 Blundstone is a great choice for those who live in cold climates. The thick sole and elastic sidings provide extra stretch and comfort for people who live in colder climates. It's also water-resistant, and looks great paired with any outfit. However, don't expect to wear this boot for extended periods of time outside, as it may get wet quickly and leave you feeling colder than you'd like.
If you're looking for a dressier pair of boots, the Blundstone Dress Series might be the perfect choice. With a square toe and medium width, this style is perfect for daytime excursions as well as a night out with friends. There's also a different range of Blundstone boots for different seasons. The Active Series is shorter, lighter, and breathable, while the Thermal Series is waterproof and has a warmer lining.
The Blundstone boots are expensive, but they last a long time. The brand also offers free shipping on orders over $75. Many customers say that the boots are a little tight at first, but they are comfortable after a week or two. This is because the leather materials soften with wear, so it can be a pain at first, but with time, you will find them to be a comfortable pair. And if you're looking for a boot that holds up under intensive activities, the Blundstone is your best option.
You can find a pair of Blundstone boots in a range of sizes and colors. For example, you can find the perfect boot for your feet by browsing the selection online. These boots can be purchased from Blundstone stores and retailers. You can even find some special deals online. If you're looking for a high-quality pair of boots, try the Blundstone Super 550 Series. You'll be glad you did!
Durability of blundstone boot
Despite their high cost, Blundstone boots are incredibly durable and last for years. These shoes also offer free shipping for orders over $75. Blundstone boots are a bit on the tight side at first, but soon become comfortable. Some customers even report that they wore their new boots for hours without having to stretch them! They are also extremely durable and can hold up to intense activities. But are they worth the high price tag?
A Blundstone boot is not waterproof, but it is highly water-resistant and water-repellent. Their leather uppers are water-resistant and they are heat, acid and hydrolysis resistant. While this makes them a good daily driver, they are also suited to work and outdoor recreational activities. The water-resistant material means that they won't get ruined in the rain. This also means that you can wear them as dress boots, which are not suitable for mud and snow.
Blundstone's leather is very durable and has fewer weak spots. This means they won't be damaged by water, even if it rains lightly. Despite their high quality leather, the boots are durable and can last for several years. If you wear them a lot, they may be worn in a variety of conditions. In addition to this, the boots are comfortable, water-resistant and slip-resistant.
In addition to their durability, Blundstone also offers a range of stylish styles and materials for its footwear. Whether you need a sturdy boot for the office, a stylish pair of Chelsea boots, or a rugged pair of boots for the backyard, you'll find a pair that will fit your lifestyle. But you should be aware that this type of shoe is not for every budget. They do come with a price tag.
The warranty of Blundstone footwear varies, depending on the type of work boot and the use that it receives. However, most Blundstone boots are guaranteed to last between two and five years, and with proper care, they can even last for a decade or more. And because of their durability and resistance to extreme temperatures, they are a great choice for those on a tight budget. If you want a great-looking pair of boots at a good price, the Joules Chelsea boot is a great option for both comfort and style.
Availability of blundstone boot
Blundstone boots are available in various styles. They range from the Dress Series to the Active Series and even the Thermal Series. While the Dress Series offers a variety of styles, they are less rugged and will not last as long as the 500 and 550 styles. Both styles will feature the same pull tabs and high-traction TPU outsoles. There are also half sizes available. You can purchase a pair of Blundstone boots in a half size, if you are between sizes.
Blundstone boots are made with tough materials and are designed to withstand the rigors of heavy work. They also feature the latest comfort technologies and feature high-quality comfort and shock absorption. While they are expensive, they are worth the money. The Blundstone Lug Boot Collection is a slightly more expensive option than the standard Blundstone Work Boots. The Lug boot features premium water-resistant leather uppers, chunky outsoles, and deep ridges. The Comfort Arch footbed with XRD Technology is also available.
In 1870, Blundstone and Sons began manufacturing footwear in Tasmania. They were soon recognized as leaders in the industry. By the early 1900s, their factory was producing up to 2,000 pairs of boots a week and was one of two dozen companies in Australia tapped to make army boots. During the Great Depression, Blundstone sold their factory to Cuthbertsons, which continues the Blundstone name today.