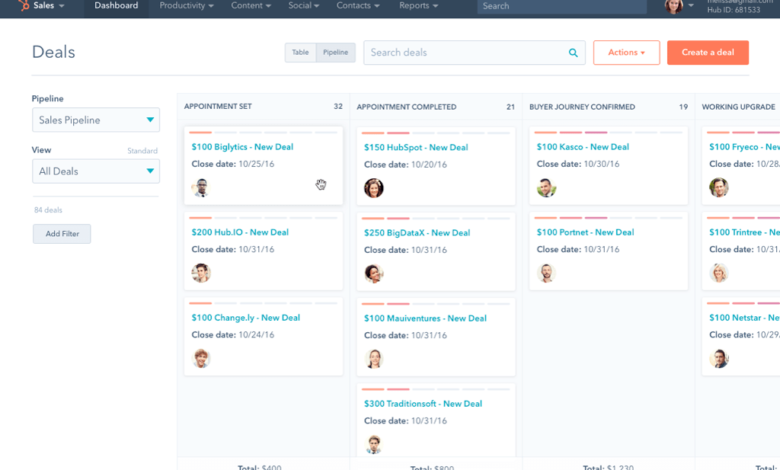 What is HubSpot? This American software company produces inbound marketing, sales, and customer service software. It was founded in 2006 by Brian Halligan and Dharmesh Shah. In this article, we'll explore the various features of HubSpot and discuss pricing and add-ons. The article will also discuss creating forms in HubSpot. If you're looking for a software program to help you grow your business, HubSpot is a great choice.
Features of HubSpot
A list of features and benefits is provided below. If you want to improve customer service, HubSpot is worth checking out. Its premium version offers features like website integration. With the help of this tool, you can send emails to your leads and customers straight from your platform. With its call-recording feature, you can even record phone calls with customers. You can also set up your own custom surveys and send them to your customers. It also comes with an email marketing automation solution to automate these processes.
Advanced level segments – This feature lets you create lists based on companies and contacts. Then you can send personalized marketing campaigns to these groups. HubSpot offers integration with popular CRMs, such as Salesforce. It also allows for JavaScript-based workflows and bot actions. This means that you can automate the tasks and keep track of the progress of your business. You can also integrate your CRM with HubSpot for better tracking.
CRM – HubSpot's CRM offers features that help you stay organized and on top of your leads. Its CRM helps you keep track of every interaction with your prospects. Every interaction you have with a prospect should have a next step, and the CRM feature allows you to schedule them. Once you have set your next steps, you can easily move on to your next step. You'll be glad you did. You've probably listened to some complaints about CRM systems, but HubSpot CRM is different.
Pricing
If you're considering signing up for the Hubspot marketing automation platform, you're probably wondering about Hubspot pricing. Pricing is typically based on number of users, so your choice depends on how many people you expect to use the platform. While there are free plans available, you'll want to make sure you're using them for the purposes they're intended. Depending on your needs, you can choose between different plans with varying levels of functionality.
For starters, you should know that there are free tools available, as well as more advanced paid plans. Free plans don't include much, and there's a contact cap. Paid packages are designed for businesses with a larger budget, and include additional tools to improve productivity, shorten deal cycles, and boost sales. You can view all of your sales activities and see your pipeline at a glance with tools like the HubSpot Sales Hub.
The HubSpot service costs $50 to $180 a month, but you can use the free version of the platform for your own needs. However, the HubSpot pricing varies from $50 per user per month to $59,000 for a yearly plan. The HubSpot pricing page breaks down all of the different tiers and provides detailed information about how much each plan will cost. The pricing breakdown can help you decide how much to spend, based on the features and costs you'll be using.
Cost of add-ons
The most important factor to consider when choosing a marketing software program is how much you can afford to pay for it. There are several tiers to choose from, including the standard edition, the pro account, and the enterprise or support level. A free account is sufficient for the most basic purposes, and it comes with limited features. The cost of add-ons is reflected in the prices, as well. However, if you are looking for more customization options, it's worth checking out HubSpot's customizable themes.
If you only plan to use HubSpot for marketing purposes, the basic plan comes with 2,000 marketing contacts for free. If you want to manage more contacts, you'll have to pay $100/month per additional 10,000 marketing contacts. The cost goes up as you use the software to send marketing emails to customers or target advertisements. However, you get unlimited storage for non-marketing contacts, so you can keep them indefinitely for free.
You'll also have to pay for the HubSpot Marketing Hub. You can use this to send marketing emails and automate your campaigns. You can also use the Marketing Hub to integrate your Ads account. If you have a Sales or Service Hub, this is an essential tool for your marketing plan. The cost of the HubSpot marketing hub varies by plan, with a free version of each HubSpot hub containing basic functionality.
Creating forms in HubSpot
Creating forms in HubSpot is easy and can be integrated with your landing pages. You can create different types of forms in HubSpot, and then place them on different pages on your website. You can even customize existing templates and create customized forms to match specific use cases. To preview your forms, click on the preview button on the right hand side. If you'd like to add a link to your form, you can edit its URL, name, and other details.
You can also customize your forms and use them to track the lead journey. HubSpot forms enable you to embed them on your landing pages, which is an effective way to capture more information. They also allow you to track the behavior of your leads and can be embedded on your contact pages. There are many benefits of creating forms with HubSpot. You can get unlimited users, live chats, and better insights. In addition, you can integrate them with other CRM platforms.
The best way to make your forms work with HubSpot is to import contacts from your existing spreadsheet. You can then pair those contacts with the properties they already have in HubSpot. This method is efficient and allows you to send marketing emails and view your contacts. If you don't want to create your own forms, you can use other tools that can help you create them. The best way to create a new form is to follow these steps:
Creating workflows in HubSpot
Creating workflows in HubSpot is a great way to automate marketing and sales processes. Workflows use enrolment criteria and can act on contacts, companies, tickets, and other associated records. They can also be customized to your business's unique needs. Workflows can improve lead flow and communication and can increase your return on investment. To create a workflow, first define your goals. For example, your lead page might promote an e-book. Once the lead downloads the e-book, your lead conversion process begins. Once a lead is converted, they may enter the sales process or be contacted by another member of your team.
Another great workflow in HubSpot is the funnel check-in workflow. Using this workflow, you can track your marketing funnel progress and determine where leads drop off. If you send one-off emails to unhappy contacts, you can automate that email through a workflow. If your leads are falling off your sales funnel, you can use workflows to remind your sales team to contact them and re-engage them. These workflows can make the transition from one sales team to another simple and seamless.
Another great use for re-engaging workflows in HubSpot is in the eCommerce field. If your leads haven't interacted with your business, they may have forgotten about you or are waiting for a good deal to make them stay loyal. This is an especially important strategy to keep in mind in eCommerce as abandoned carts cost $18 billion every year. A re-engagement workflow can be triggered by determining why your leads left your website and/or a set period of time has passed since they last interacted.
Integrations with other software
Integrations with other software can streamline operations and increase productivity. This can help eliminate the need to switch between software applications, allowing support representatives to provide superior customer service. To make integrations a success, plan ahead. Start by identifying all of the software applications you currently use. Then, start exploring the data points they collect. Once you have a clear picture of the data you need to integrate, you can choose the best software solutions.
Another major benefit of software integrations is that they can greatly reduce the amount of data you have to handle. Manual processes involve entering data into multiple systems, which can be time-consuming and prone to error. Having a single source of information also saves your computer space and countless hours updating information. Streamlining business processes with software integrations can also help businesses cut costs. They can free up valuable resources to focus on more important tasks.
Third-party integrations can be particularly helpful. With the help of third-party software, you can extend an existing project with additional features and devices. Using different APIs, these integrations can be built faster than developing a solution from scratch. In addition to allowing real-time information flow between applications, they can also save operational time by automating delivery and analyzing data. By using third-party integrations, you can add the features and devices you need without spending a fortune on new software.