Lifestyle
Fashion Nova Cares – How the Top Brand is Changing Lives in the Name of Charity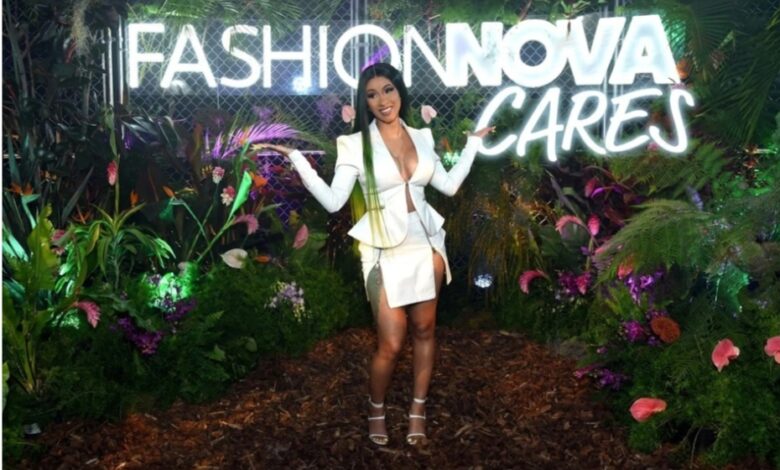 Back in April of 2020, Fashion Nova, along with Cardi B, pledged to give away $1000 every hour to people in need and it agreed to do this until late in May of that year.
Well aware of the hardships which many people were facing thanks to the Pandemic, Fashion Nova took swift action.
Sharing their success, Fashion Nova proceeded to help countless people who had been badly affected by Coronavirus in terms of their living conditions, health or wellbeing.
The big-name brand, beloved of celebrities and the fashion-savvy public have continued in their pledge to support good causes and demonstrate their philanthropic attitude as they focus on supporting education, children and women in need and BIPOC owned businesses among other worthy causes.
At the time of launching the drive, Richard Saghian, Founder and CEO of Fashion Nova said, "People are struggling to pay rent, buy food, medicine and other essentials for themselves and their families. We all feel compassion and concern for those affected by the Coronavirus."
Rapper Megan Thee Stallion also teamed up with Fashion Nova and in March of 2021, announced that she was collaborating with Fashion Nova on an initiative called Women on Top which pledged to spend $1 million on women in education, business and charity. Megan Thee Stallion has been active in supporting many great causes alongside the fashion brand.
Some of the organizations to benefit from Fashion Nova's charitable efforts include –
Bennett College, a historically black liberal arts college for women who received $25,000 from Fashion Nova Cares. The alumnae of Bennett College reads like an award's nominations list – many incredible academics, teachers, philosophers, artists and all-round game-changers have attended Bennett College.
Lotus House Women's Shelter which is a non-denominational, non-profit organization which aims to improve the lives of women, youth and children experiencing homelessness in Miami. The shelter operated at full capacity even during the height of the pandemic, never once turned applicants away and even added more beds to provide for the additional pressures it faced during the upheaval. This was an incredible achievement given the pressure charitable organizations were under at this time.
The Breonna Taylor Foundation Inc received $100,000 from Fashion Nova in support of its dedication to support economic, social, and racial justice through police reform and government accountability. The Breonna Taylor Foundation, which was set up by Breonna's Mother Tamika Palmer, seeks to help young people to realize their full potential, empowering them to participate in political processes and participate in mentorship programs, after-school initiatives and educational support.
The Black Trans Femme Artists Collective (BTFA) received a grant of $25,000 to help them continue in their work supporting Black trans nonbinary femmes and Black trans women in their pursuit of the arts. The organization helps participants to thrive in a variety of practical ways.
Dreamers Youth received a grant of $50,000 to help the organization continue to assist children in need to work with mentors who develop the children's entrepreneurial skills and emotional development.
Peace4kids is a charity which has been established for 20 years. It's mission is to create a community where youth in foster care can become part of a shared, cultural community. The idea of Peace4kids is to provide "community as family" and discover stability and trust among peers. The organization received a grant of $100,000.
Why fashion and charity work together so well
Fashion knows no boundaries. No matter what your background or socio-economic status, it's perfectly acceptable to enjoy a love of great clothing and accessories.
Fashion can uplift, inspire and elevate. The ability to dress up and show off is a universal need for many people – no matter which part of the world they're from, how large or small, what they do for a living or how old they are.
Fashion Nova is arguably the people's fashion brand. Hugely stylish clothing at affordable prices mean that everyone can enjoy up-to-the-minute style and feel great about themselves.
In pairing with charitable organisations which empower children, women in need and women who are historically marginalised, Fashion Nova are aligning themselves with what truly matters in the world – and that's advocating for those who need a leg-up on the ladder to success.
About Fashion Nova
Fashion Nova is one of the world's foremost fashion lifestyle brands. Founded in Los Angeles in 2006, Fashion Nova aims to bring the most exciting new styles to women, men and children across the globe.
The Fashion Nova brand has been featured in songs and their styles have been showcased by many famous celebrities including Cardi B, Kylie Jenner, Tyga and Amber Rose.
With an Instagram following in excess of 25 million, the brand inspires followers daily with its relevant, timely posts and supremely wearable fashions.
Fashion Nova has a community of diverse influencers which are spread across the world. These influencers between them, enjoy millions of followers and one post from a popular influencer can see a Fashion Nova garment quickly go viral.
The popular brand creates eye-catching, sexy crowd-pleasing garments which are designed with modern perspectives at the forefront of their execution. This is well-made, affordable clothing which answers the call for fabulous clothing that people want to wear.
As a brand, the company has built an unshakable rapport with their fans and this approach has undoubtedly been part of Fashion Nova's success.
The influencers which Fashion Nova work with all embody the brand in their own, individual way and through their consistent stream of entertaining and inspiring posts on Instagram and TikTok, they continue to spread the message about Fashion Nova.
Pushing boundaries and challenging accepted beauty standards has always been a big part of what Fashion Nova is about – the work of their influences compounds the message that Fashion Nova lets people be who they want and celebrate their own unique strengths and beauty with confidence and joy.
What better way to use your success for the betterment of others? This powerful brand is making change happen in the world and they're going about it in their own uniquely unstoppable way.