Business
Benefits of using Aavaz Free VoIP PBX SERVER over normal phone service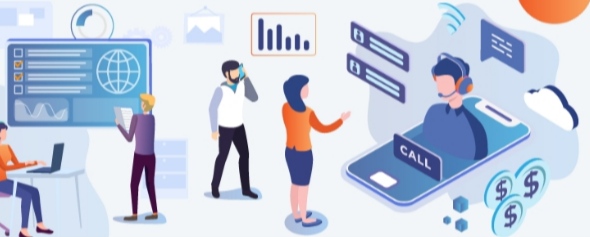 Aavaz Free VoIP PBX System
The VoIP PBX server, also known as the free online PBX system, has been rapidly growing in popularity over the last decade. Businesses are using a free online PBX system over normal phone service due to its many benefits.
Unlike normal phone service that depends on circuits to establish calls, a free online PBX system uses the internet for calls. Both VoIP PBX and traditional phone service have devoted customers.
This blog will provide you with a straightforward overview of both systems. You can determine which is the best fit for your business needs.
Structure of VoIP PBX System & Normal Phone Systems
The basic structural components of regular phone systems include:
It has a ringer tethered to a switch hook that stays connected to the phone line while it is on the hook.
When the phone is turned off, a receiver, transmitter, amplifiers, and other circuitry connect.
A transmitter and receiver are located on either the handset or the telephone base.
The transmitter sends a current through a telephone exchange when you dial a number. This is then decoded at the receiver at the receiving end.
A hybrid coil circuitry is used to prevent interference between two signals.
The Basic structural components of a VoIP PBX system
Basic telephone handset
Use a touchpad to feed in the numbers
Digital displays show user input
Converts voice into digital data and digital to voice data
A wireless network that sends and receives messages through the internet
Built-in port allows your device of chouse to have a common line for data connection
The power source can be a battery or direct current source
Cost-Efficient
Cost-efficient
A free online PBX system is the clear winner in terms of cost.
A traditional phone system needs costly upfront investment and recurring maintenance costs. It is also important to upgrade your hardware with your growing business, which costs more.
A free virtual PBX system eliminates the need for expensive equipment. The upgrade and maintenance are usually included in your low-subscription-based plan. This depends on the number of lines necessary to keep the business operation running smoothly.
With a free online PBX system, you only need the internet connection and a device of your choice. A VoIP PBX system reduces the costs because of the less on-site equipment required to get the system up and running.
Accessibility
Accessibility
With a free online PBX system, you have instant access to the most up-to-date software. Top PBX providers like Aavaz automatically upgrade the latest software when they become available for free.
The isn't possible with a traditional phone system. You will need to hire an expert IT professional to perform updates which can be costly.
Reliability
Reliability
The reliability of a free online PBX system is a major concern for many. When your internet connection is slow, it can negatively impact your business operation. Your operation is dependant on your internet and electrical power. You can prevent this by signing with an experienced service provider like Aavaz.
The majority of top VoIP providers guarantee 99.9% uptime. Most leading free online PBX system providers offer backup options to ensure business continuity, including line data centers. Some also provide emergency backup plans that forwards calls to mobile phones or other locations.
A traditional system is susceptible to power and internet outages because it is on-site. It also doesn't have reliability in terms of natural disasters.
Mobility
Mobility
The traditional phone system doesn't have mobility features. If you use a traditional telephony system, you will pay a premium for extra features.
A free online PBX system is compatible with any device and is also available as a softphone app. The free online PBX system has a virtual number that makes it possible for long-distance calls to be made but charges local rates.
The free online PBX system's caller ID feature allows you to make calls from your phone. However, it displays your number as your company's phone number. You need an IP phone or headset with you.
You can also transfer calls to your co-workers without causing customer inconvenience. A free online PBX system allows you to change your availability status so your co-workers can see that you are taking calls.
Call Quality
Call quality
Before, a traditional phone system provided better call quality over a free online PBX system. However, with constant innovation, a free online PBX system allows you to have high-quality calls. With Aavaz, you can make each call count with high-quality calls.
Mutli-Functional Features
Multi-functional features
Unlike a traditional phone system, a free online PBX system offers many features and functionalities. Communication methods, like SMS, presence information, voicemails, audio and video conferencing, can all be integrated with a free online PBX system.
The video conferencing feature lets you collaborate with your employees and investors from anywhere. It also saves you business travel expenses. You can convert voicemail and fax into an email. You can easily skip the content of the email for key points.
The free online PBX system gives you access to your business call logs. You can use this to understand customer behavior better and allocate communication resources.
Security
Security
The free online PBX system provides more security compared to traditional phone services. It has improved identity management and data security by implementing systematic encryption protocols. With IP technology advancements, businesses are always at risk for scam calls and free online PBX system experts to keep these threats.
Hosted providers protect their user's networks 24/7. Most VoIP providers like Aavaz performs security audits and implement healthy password practices. They also set up automated alerts to notify their users when suspicious activity is detected.
Flexibility
Flexibility
Using your mobile, you can use a VoIP converter or a telephone adapter. The converter resembles a memory stick and can be easily plugged into your computer. It identifies and converts signals into digital data that your internet can understand.
Your existing connection serves as the underlying network. This means you can keep your current system while eliminating the technicalities of the PSTN phone network without having to switch networks. You save money by combining your data and phone networks.
Overview of Benefits of a Free Online PBX System
Caller ID is available, which is not available on a standard phone system.
Unlike the complicated circuitry of a traditional phone system, communications are digitally encrypted.
Phone numbers can be saved in the VoIP phone memory, allowing for speed dialing.
Using the VoIP phone system, it is possible to hold a conference call or a multi-party call.
Other features include call parking, call transfer, and on-hold functionality.
Overview of Benefits of Normal Phone System
Long-distance calls will have better connectivity, unlike VoIP, which requires internet access to communicate outside your local area network.
Unlike VoIP phones, they are powered by the telephone exchange and do not require an external power source.
Due to frequent network congestion, especially in residential areas, regular phones have better voice quality than VoIP phones.
Conclusion
Traditional phone systems are still used in the current business world. By comparing the differences and benefits of Aavaz's free VoIP PBX service to traditional phone service, it is clear that Aavaz's free VoIP PBX service is superior.
When you are ready to make the switch that your business needs to grow with minimal disruption, contact Aavaz. Aavaz has been helping businesses of all sizes switch from traditional phone systems to free online PBX systems.