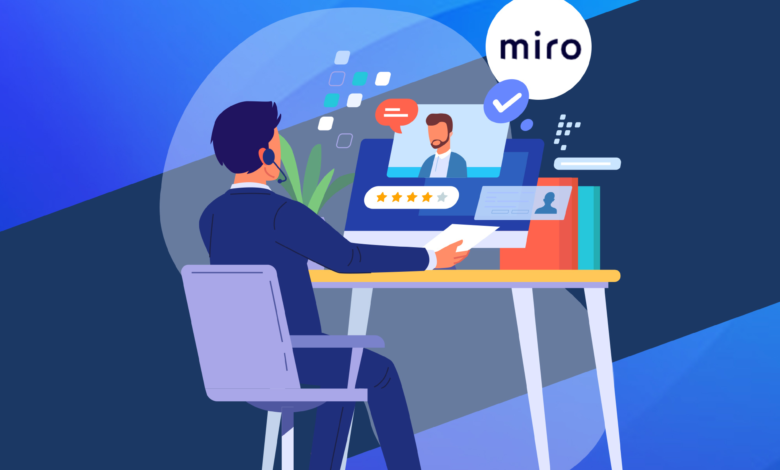 Miro cost is practically the same as other project management software. Small teams can use this tool for free. However, enterprise accounts come with additional management tools and support. The software offers some advanced options such as single sign-on.
In this Miro review, we will discuss the differences between the various Miro pricing plans. In general, we will dive into whether it is worth considering Miro as a supportive tool for small teams.
A Brief about Miro Project Management
Miro project management is a collaborative online whiteboard platform. This software enables remote teams to work effectively. With Miro, your team can use all the features for collaboration, easily create cross-departmental teamwork, and hold meetings.
In addition, you can use video chat, presentations, file sharing, and many other features. This tool is perfect to empower the design, development, and engineering teams to coordinate and innovate together. Eventually, it enables everything in real-time.
With this software, you can focus on delivering the right products to your customers. This will be done by creating concepts, recording user stories along with customer journeys, and executing roadmap plans.
In brief, Miro is cloud-based collaboration software that allows companies to combine work planning, strategy, wireframing, tool integration, and seamless management of projects.
The tool comes with pre-made templates and icons. These features allow you to upload files and images to give your team members more options when performing tasks.
A Free Demo from Miro
Miro provides its free demos to help its users understand the entire features of the software. To view the live version of the software, you would need to sign in with the correct credentials. The demo version offered by Miro includes:
Three editable boards
A premade template
A core integration
An anonymous board views
The free version of Miro includes some basic features. The free account offers only unlimited boarding. On the other hand, enterprise users can use more advanced tools. Of course, adding the paid version will cost you more.
Meanwhile, the business account will be a great option for large teams. Yes, you can get unlimited users at the enterprise version. Yet, the business account not only offers more features. More than that, business accounts offer premium support. Additionally, on the paid version, you can customize the dashboard easily.
How Much Does Miro Cost?
Speaking of Miro cost, this software offers plans at $10 per month that different groups can use individually. Miro for a team plan with over 5 members costs $8 per year. The business plan will be ideal for 20 or more members at $16 per member. Ultimately, you can get custom pricing for the enterprise plan with 50 or more members based on their usage.
Basic Plan of Miro Cost
Basic Plan of Miro cost rated at $8 per member. The cost of the business plan is $16. Miro has a free version and a paid version. All plans come with a template. Whether you are planning to use Miro for personal or business use, you will easily understand how the software works.
As mentioned above, the free version comes with a basic board and limited templates. A paid plan on Miro works perfectly for large teams. The best thing is, you can customize your own boards to suit your business needs.
The Ad-Free Version of Miro Project Management
The free version of Miro offers more capability than the free version offered by other project management tools. In this free version, Miro provides you with enterprise tools. The tools include administrative and management tools.
With these tools, it will be easy for you to share files with other users. Most importantly, you can also collaborate with other teams through the cloud. This will not cost too much, so it is surely worth trying for.
This will cost you the same as other collaborative tools. You will also get some amazing extras such as the ad-free version.
Miro Cost for Premium Project Management Tool
Miro cost for project management is cheap and affordable, especially when compared to other business software. It also includes tools for working with others. For example, you can create a graph using the tools available in Slack.
The free version additionally allows you to share documents with other team members. In addition, the paid version allows you to view and edit the work of others. Ultimately, you can also create documents for collaboration with other teams.
Affordable Plans from Miro Cost
Depending on your needs, Miro cost is offering an annual plan of $8 per month. The free version comes with an unlimited number of boards and offers unlimited storage space.
The premium version is customizable and highly integrated with priority tools. In addition to the free plan, Miro offers many integration options.
The Difference between the Free Version and Paid Version of Miro
Based on Miro review of its free version, you can easily create boards and collaborate with others. Meanwhile, the paid version offers additional integration options and allows you to share content. The best part is that there is no limit to the number of boards you can create with a paid account. There is no limit to the number of teams, so you can share content with other teams without any hassle. This makes Milo extremely flexible.
The Difference between Paid and Premium Versions of Miro
The Miro cost depends on the features and equipment. In addition, the user interface of this software is very easy to navigate. You are allowed to add files from other apps and collaborate with different users. In addition to its free version, you can also get a premium version of Miro.
The paid version has more features, but of course, they are not free. The premium version offers more features and a larger user base. With the Miro project management tool, you can collaborate with multiple teams to come up with new and innovative ideas.
So, what do you think? With the affordable Miro cost, is it worth considering this software as a supportive tool for small teams?