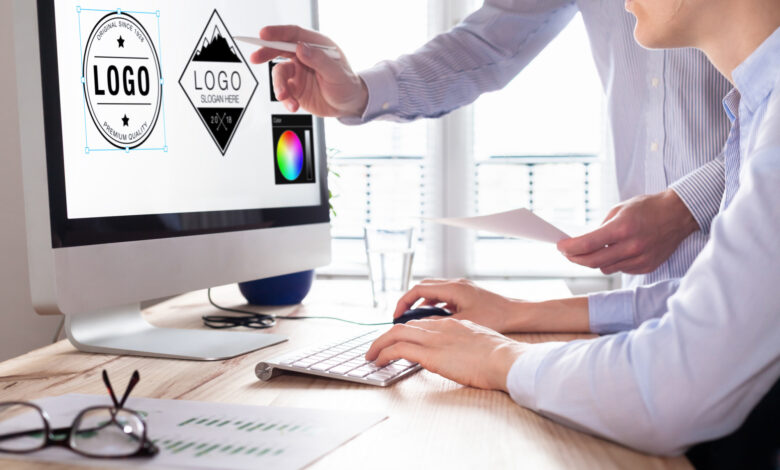 The notion of condensing your whole brand in a single picture like a logo may seem daunting, but the good news is that there are several free or low-cost online logo making tools that can assist you in establishing your new business's identity. When you think of the world's top businesses, you probably think of their logos, whether they became legendary because the business was successful or because the logo helped the organization flourish. Creating a beautiful logo is only the beginning; developing and enforcing a strong brand identity necessitates the constant use of graphics, colors, and other brand elements. With these free online logo generators, you can keep your branding on point.
Venngage
Venngage is a remarkable alternative since it does more than just create logos. Create your logo alongside other brand resources like pitch decks, presentations, infographics, and more to ensure that everything functions in synchronization. Select from dozens of templates and personalize one with your company name. Use the tool to change the font, colors, and size of the text, as well as scroll among hundreds of visual elements. The tool has over fourty thousand icons and images available for use in your logo. After you've finished editing your logo, you may adjust the color or background of the template backdrop before downloading if you prefer a transparent background. It is free to create your logo, but you must upgrade your account to download it. However, doing so grants you access to hundreds of templates that you may use in your company's logo. More crucially, with a premium membership, you can instantly apply your logo and brand color palettes to any of your logo designs. Once your logo is complete, you can enter My Brand Kit to access it immediately for your website along with your brand colors. You may also submit your logo to My Brand Kit manually. After that, just customize a template and your logo and brand color palette will be incorporated to your design with a single click. Do you need some more ideas for your company logo? You can simply alter with the tool's editor. Consider this basic yet brilliant logo, which employs a simple graphic metaphor to represent what the firm performs. Alternatively, you may browse through the hundreds of available icons and shapes to choose one that is relevant to your business. If logo designing isn't your thing, don't worry; there are plenty of other opportunities available.
SquareSpace
The free online logo builder from Squarespace is straightforward yet effective. Rather than choosing from a list of templates or samples, you go right to the editor, which is simple to use. However, if this is your first time using a logo editor, you will need a few minutes to get the swing of things. Enter your firm's name and look for an icon or symbol that depicts what your company does. Colors, typefaces, and graphics may be changed, albeit the font selection is restricted in comparison to other tools. You may still download PNG files in color, black and white, and transparent PNG formats that you can use anywhere for free. All that is needed is the creation of a Squarespace account.
Logo Maker
The Logo Maker logo creation process begins with the website asking you basic information about your organization and your preferences, such as general logo design approaches and typefaces that you like. The tool then produces logos it knows you'll enjoy. Scroll through the results and use the editor to alter and fine-tune the logo you've chosen. While you can't alter every feature as you can in the other editors on our list, you can change fonts and colors and see how your logo would appear on a variety of assets such as a website, shirts, flyers, brochures, and stationery. The tool is a little difficult to use when it comes to picking specific pieces to update them. Logo Maker is free to use, but acquiring usable files will cost you at least $40.
Tailor Brand
Tailor Brands' online logo builder is perhaps the most elegant and complex tool on this list, although you won't be able to download your logo design for free. An yearly membership, which starts at $3.99 per month, is the most affordable alternative. Enter your company name, logo style, font styles, and whether you prefer abstract shapes or recognizable icons. The tool will then produce templates for you to choose from. While we found the tool to be really easy and loved the suggested pre-generated color palettes, all of your possibilities are constrained by the selections you made at the outset. So deviating from that is difficult. You can preview what your logo might appear like in the real world before you complete it, just like you can with other tools.
Bring your brand's narrative to life with a free, bespoke logo design. Create your logo with these tools to benefit from comprehensive design as well as business exclusive features and real-time collaboration to ensure your whole team is on board. Individuals with strong design sense or design tools may develop a stylish, bespoke logo in as little as five minutes, however savvy businesses are always searching for ways to improve their branding. And while your logo may be completed, it doesn't imply it can't be changed later.